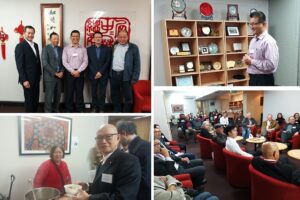 On September 15, 2021, our Chamber hosted Sam Lim as the featured speaker for our Wednesday Networking event. Sam was awarded Police Officer of the Year in 2020 for his excellent service as a Diversity Engagement Officer. This was the first time the title was awarded to an ethnic Asian – an indication of Sam's substantial contribution to the WA police force and the broader community.
Sam was recently invited by local community leaders to run in the upcoming Federal elections. He is the preselected Australian Labor Party candidate at the southern metropolitan seat of Tangney. This is a new and exciting challenge for Sam. The role is demanding and carries huge responsibility. Sam plans to campaign off the back of his knowledge and expertise in multiculturalism, promoting harmony and understanding. His policies are designed to benefit all Australians in his electorate, not just selected minority groups.
The evening was very well attended. Special guests included Dr Chen Ting, President of Chung Wah Association, and Mr Lai Ah Hong, Managing Director of Phosphate Resources. Ibu Ade of WarungAde Catering supplied delicious Indonesian meatball (bakso) and noodles to ensure all guests were warm and well fed.