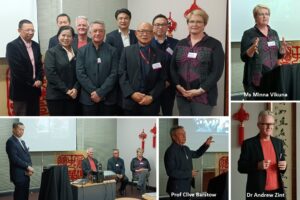 The third annual join networking event between the Chamber and Australia China Friendship Society WA (ACFSWA) was held on July 28, 2021. After welcome remarks by Chamber SVP Tony Chong and ACFSWA President Nancy Chen, the audience listened to three speakers recounting their experience of living and working in China as a foreigner.
Minna Vikuna left her home country Finland to study Mandarin in Beijing. She then spent the next 28 years living and working in China. During that time, she represented European companies to develop the China market. She is a fluent Mandarin speaker, has travelled widely in China and is fond of studying Chinese history and culture.
Andrew Zint lived in Nanjing for several years and taught at Zhejiang University. He is also a martial arts fan and has studied under different masters while he was in China. Andrew talked about "China speed", the nation's dynamism and work culture, which enable projects and developments to be completed at a pace rarely seen elsewhere.
Clive Barstow, professor of arts at ECU, taught and organised art exhibitions in China over the past 12 years. He has taught many Chinese students, both in China and in Australia. He shared the story of how he managed, with very limited Chinese language skills, to organise a highly complex art exhibition in Shanghai over a two month period.
The Chamber looks forward to future collaboration with ACFSWA.