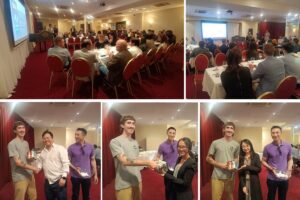 Over 50 guests enjoyed a fun evening of food, drinks and networking at Hotel Northbridge on Nov 3, 2021. The occasion was the last Joint Youth Networking event for this year. Guests listened to a talk by Mr Xiao Liang, Managing Director of Hotel Northbridge, on the impact of COVID-19 upon the hospitality industry. After which Fraser Hughes of Nail Brewing conducted an entertaining beer sampling session.
Hotel Northbridge provided a delightful buffet meal to accompany various Nail Brewery beers. Nail also supplied door prizes to 4 lucky guests.
WA Chinese Chamber of Commerce and the Chung Wah Association jointly organised four youth networking sessions this year. Each have been successful and highly popular with younger members. Our Chamber look forward to further collaboration with Chung Wah in the coming year.
For upcoming Chamber events, please visit our website.