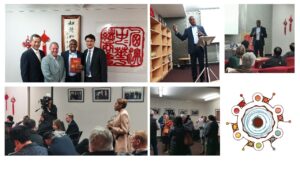 On the evening of July 26, 2023, WA Chinese Chamber of Commerce hosted the Noongar Chamber of Commerce and Industry (NCCI) for a special networking evening. Oral McGurie, founding director, and Tim Milsom, CEO, presented on their individual journeys, the formation of NCCI, and their thoughts on the upcoming Voice Referendum.
Noongar Chamber was established in 2018 to support contact between Aboriginal owned businesses and the broader WA business community. Its mission is to build the economic capacity and wealth of Aboriginal people. Currently it has over 600 members. It also runs a successful First Nation business hub at the historic Godfrey House in Subiaco.
The evening was well attended by members and guests. Oral McGurie commence proceedings with a heartfelt Welcome to Country. Our Chamber President Tony Chong responded with an official welcome. Special guest included Kyra Galante, WA Ambassador for the Yes Campaign. Click on this link for a video of the evening.
WA Chinese Chamber of Commerce look forward to continual friendship and cooperation with the Noongar Chamber of Commerce and Industry.