(This article was prepared as a part of our eNewsletter dated 20 April 2020. Fill in the form at the bottom of our main webpage to subscribe for future eNewsletter)
On March 12, WA Chinese Chamber of Commerce held its first Mandarin Networking event for 2020. The featured presenter was Senior Constable Sam Lim from the Community Engagement Division of Western Australia Police Force. Sam advised over 50 attendees on how to increase personal and home safety. He also gave a brief presentation on WA police and its relationships in the community, especially to the local Chinese community.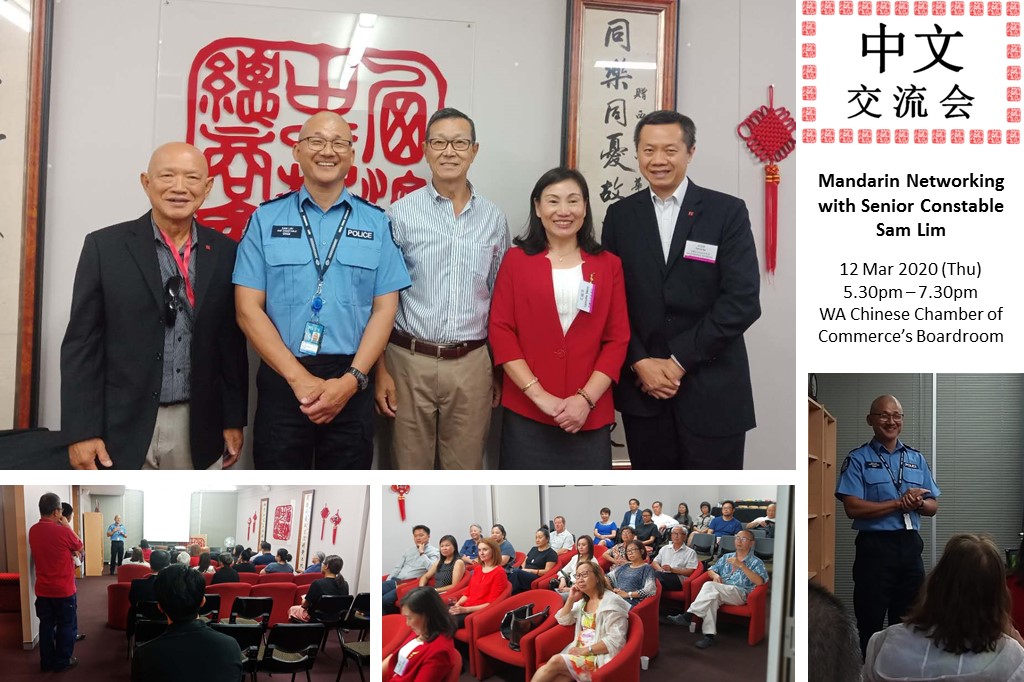 We subsequently approached Sam's colleague, Superintendent Dominic Wood, for comments on WA Police's activities during the COVID-19 period. The following were Dominic's answers to our questions.

Question: Superintendent Wood, can you please introduce yourself?
Dominic: My name is Dominic Wood, I am the Police Superintendent responsible for the WA Police Community Engagement and Crime Prevention areas. I joined the WA Police in 2006 and before that I was a Police Officer in the UK, serving in the south of England and then in the Manchester area. Altogether I have been a police officer for over 36 years in many varied roles, including VIP (Dignitary) Protection; policing the Manchester United games; running the State Traffic Division; managing the Police Media Unit; and being responsible for the policing of WA's Great Southern region.
On the private side, I'm married with three grown-up children and like to go for walks and keep fit by cycling and doing a bit of Jiu-Jitsu / Judo – providing my ageing knees hold out!
Question: Can you explain the importance of police community relationship?
Dominic: I'm a firm believer in the philosophy of Sir Robert Peel, considered to be the father of modern policing. His principles were that the police must secure the approval and willing cooperation of the public to perform their duties. That the police are the public and the public are the police, and that the police are just members of the public paid to attend to community welfare. I therefore believe that we must maintain that philosophy and tradition, by engaging with the public, listening to the public and inviting the public to voice their concerns. Police cannot police alone. We rely on the public as our eyes and ears and must, through building trust and strong relations, encourage the public to report matters to the police, for us to investigate and administer justice on their behalf.
Question: COVID-19 and the need for social distancing has dramatically change social activities and behaviour. How has this impacted WA's police force?
Dominic: Social Distancing – The strong message to our officers has been to enforce social distancing, but not necessarily through penalties. Penalties are available to officers, but they are encouraged to use common sense and discretion, providing advice and guidance, or cautioning and moving people on in the first instance. I believe the vast majority of the public are doing the right things and officers are working with the public to reinforce those messages, to keep us all safe.
Quarantining – We do have officers enforcing self-isolation and quarantine. This is an extremely important role and I have tremendous respect for our frontline officers putting themselves in harm's way to ensure compliance.
State and Regional border control – This has been going extremely well and again the vast majority of the public fully understand the need to contain this virus and minimise the spread. This has been an extremely well-coordinated operation, including strong communication with business and food supply organisations.
Question: Do you have any messages for our readers at this time?
Dominic: My message is to thank the public for their cooperation and understanding through this unprecedented emergency situation. I would urge everyone to keep following the news and online media advice and updates. The WA Government site has a lot of up to date information, with translations and it is important that the public read and fully understand what they can and can't do. This is a time to support one another, to be kind to each other and be patient. This will end. If there are incidents or crimes occurring, in particular racially motivated crimes, of which thankfully there are very few, we urge you to report this to police so that we can not only investigate but get a fuller appreciation of the current climate and any issues we need to focus our efforts more on.
Last but not least, The WA Police Force stands by you. We are proud of our cultural diversity and we are fortunate to enjoy a peaceful and harmonious community here in Western Australia.