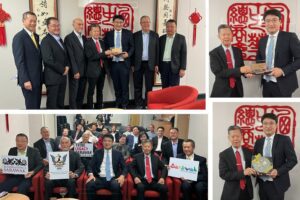 On 3 May, the Western Australia Chinese Chamber of Commerce (WACCC) welcomed senior delegation from the Kuching Chinese General Chamber of Commerce and Industry (KCGCCI).
Established in 1890, KCGCCI is celebrating its 133th anniversary this year. Its focus includes to promote trade and business, meet with industries, organise trade missions and exhibitions, and promote economic development. Currently it has over 1,200 members. KCGCCI is a leading member in the Associated Chinese Chambers of Commerce and Industry of Sarawak (ACCCIS), which is the umbrella organisation in the East Malaysian State of Sarawak.
The KCGCCI delegation was led by President Dato Tan Jit Kee. Delegation members included Vice President Mr Kueh Eng Mong, Secretary General Dato Chai Voon Tok, and Chairman of Digital Economy Rodger Chan. Team member expertise included international trade, investment, construction, legal services, education and technology.