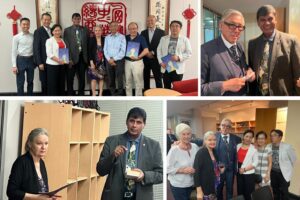 At this 2023 launch of Guanxi with Professor Ralph Martins AO on 15 Feb, he touched on the latest research with Alzheimer's disease and how relationships at many levels have been key to his research with Alzheimer's disease and encourage you to make the right connections for your brain health.
Professor Ralph Martins AO holds a joint academic appointment of Professor of Neurobiology at Macquarie University in Sydney and Foundation Professor of Ageing and Alzheimer's Disease at Edith Cowan University in Perth.
He holds numerous distinctions. He is a Clarivate Web of Science Highly cited researcher (Cross- Field) for 2020 (top 1% world-wide), WA Citizen of the year (2011), Australia Day Ambassador since 2011 and was conferred with Oder of Australia in 2013. Since 2014 he was appointed to the Board of Directors of the International Federation of Ageing (IFA) based in Canada, a prominent non-governmental organization that works closely with the United Nations and the World Health Organization.