(This article was prepared as a part of our eNewsletter dated 11 June 2020. Fill in the form at the bottom of our main webpage to subscribe for future eNewsletter)
In the fourth article of this series, we introduce our Senior Vice President, Mr Tony Chong.
| | |
| --- | --- |
| Name | Tony Chong |
| Email | tony.chong@waccc.com.au |
| Occupation | Managing Partner (Perth), Squire Patton Boggs, Level 21, 300 Murray Street, Perth, WA 6000 |
Question: Tony, can you introduce yourself to our readers?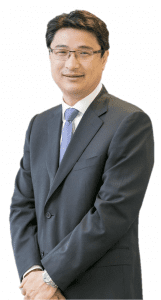 Tony: I was born in Malaysia and is of Chinese descent. My family moved to Perth with me in 1985, just after I finished primary school. Originally Perth was intended to be a "stop over" on the way to Sydney, but my family fell in love with the place and decided to take roots.
I studied law and accounting at Murdoch University. Having grown up in a family of lawyers, law was not my first choice. I was ultimately convinced by Murdoch's Dean of Law (who subsequently became a Supreme Court Judge), who said, "why don't you join?" – it will take you 5 years here instead of 6 years at other places, also you have plenty of career opportunities besides practicing law once you graduate. This appealed to me as I was keen to start earning some money!
As it turns out, law did opened up many opportunities. I worked in the corporate world for 7 years (gaining my CPA and Master in Tax along the way). During this period, I worked on some of the biggest projects in Western Australia, including the development of City Square (now Brookfield Place), sale of Alkimos (then one of the largest Englobo land sale in WA), development of a $1.2 billion power plant at Collie, and an 80MW windfarm development at Emu Downs.
Today, I am the managing partner of international law firm Squire Patton Boggs. I practice in corporate and mergers and acquisitions law. I am the firm's Head of Asia Desk (AU), and a member of its Asia Task Group. In the corporate world, I have been chairman and director of several ASX listed companies. I am currently Board President at DVG Group, one of the largest motor dealership in WA.
I was named a WA Business News 40 under 40 winner, and was awarded Senior Asian Lawyer of the year in 2019.
Question: How long have you been involved with the Chamber? and how long as a council member?
Tony: I have been a Chamber member since 1997, and joined the council in 1998.
Question: Do you have any specific role / responsibility at the Chamber?
Tony: I am currently the Chamber's Senior Vice President. I chair the Coffee Shop Forum event which aims to showcase leadership in society. I also focus on guiding the Chamber's governance, and assist the Chamber in its liaison with various stake holder groups, including government relationships.
Over the years, I have acted as the Chamber's young member president, chaired the ball committee, worked in publications and organised various Chamber activities.
Question: Has your involvement in the Chamber been good for you?
Tony: The Chamber has helped to shape my character and outlook in life. This is why I continue to passionately support it.
I was first introduced to the Chamber through attending a networking evening at the Hyatt. There I met Lally Major (past council member and long time supporter) and Halina Young (council member and honorary life member).
I've served under all the Chamber presidents to date bar one. Under Simon Lee, I learnt firsthand the importance of Chamber in working with communities to stem racial discrimination, and the importance of using one's position to promote diversity. Other presidents have mentored me, showed me how to see things differently, and taught me different leadership styles.
These Chamber experiences frame what I do now in the non-profit and multicultural sectors. I am a past Chairman at the Perth Institute of Contemporary Arts, is a member of the Royal Perth Medical Hospital Foundation finance committee, a member of Murdoch University Arts Collection Board, a mentor under the Asian Lawyers Association programme, and have mentored senior ethnic leaders under the government's board diversity program. I also established two scholarships to support the financially disadvantaged at Murdoch University and at Perth Modern School.
Question: Do you have any interesting Chamber stories / experiences you'd like to share?
Tony: My fondest Chamber memory was falling in love with my date at the 1998 Chamber Young Members Ball. We have now been happily married for 20 years.