(This article was prepared as a part of our eNewsletter dated 20 April 2020. Fill in the form at the bottom of our main webpage to subscribe for future eNewsletter)
In the second article of this series, we introduce Mr Sheng Shen, WACCC Vice President.
WA Chinese Chamber of Commerce's long standing Vice President Sheng Shen is a prominent figure in Perth's community. Regular attendee to Chamber events will be familiar the cakes, desserts and other refreshment products from Morzart's Patisserie – a company founded by Sheng. We interview Sheng to learn more about his story.
Question: Sheng, can you introduce yourself to our readers?
Sheng: I came to Australia from Shanghai in 1985 as an engineer, but my qualifications were not recongised, so I started working as a kitchen hand at the then newly opened Burswood Island Casino (now Crown Perth). Whilst the kitchen was a completely different working environment compared with engineering, it suited my temperament and I quickly rose through the ranks to become their Chief Pastry Chef. I competed and won many international food competitions, and received numerous award including Australian Pastry Chef of the Year, and Burswood Employee of the Year.
In 2000, I went into business on my own and started a series of pastry shops, cafes and restaurants. I also started a catering business specialising in supplying pastry and other catering products to high end restaurants, hotels, function centres and airlines. This was the forerunner of Mozart's Patisserie. I am now officially retired and my family has taken over many of my businesses.

I am a keen golfer and you will often find me at my home course in Wembley. I recently hit a hole in one (my second ever) in a golf tournament. The photo below captured the moment when I retrieved the ball after the hole in one – happy times!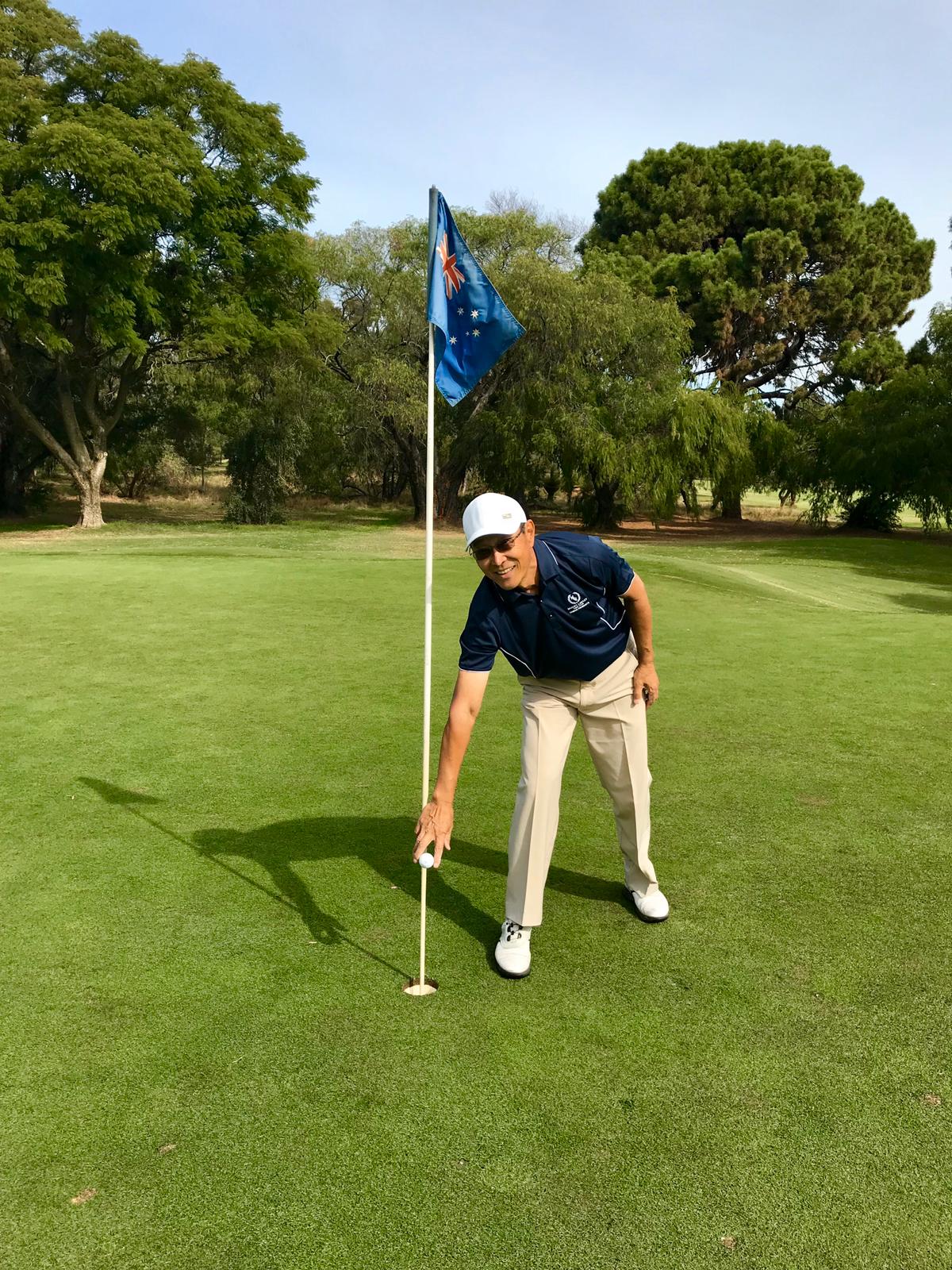 Question: How long have you been involved in the Chamber? Why did you join?
Sheng: I have been a member of WACCC for over 15 years, and a council member for around 10 years. I join the Chamber to get to know more about the Australian society beyond my immediate business circles. The Chamber is also a good venue for the mainstream Australian community to learn more about the local Chinese community.
Question: Do you have any special roles in the Chamber?
Sheng: Currently I am responsible for two large annual Chamber events – Annual Ball and Migrant Story. The Annual Ball is WACCC's flagship event and it is going from strength to strength. Migrant Story showcases the personal stories from individual migrants to Australia. I introduced a bilingual format to Migrant Story several years ago and this has been well received.
Question: Do you have any messages for the readers during this special time?
Sheng: My catering business at Morzart's Patisserie has been hit hard by COVID-19 because its main clients (airlines, hotels, cafes and restaurant) have all been badly affected. Nevertheless, we are holding strong and we believe that, under the steady guidance of our State and Federal Governments, we will soon overcome this crisis and return to a more normal business environment. Stay safe everyone!