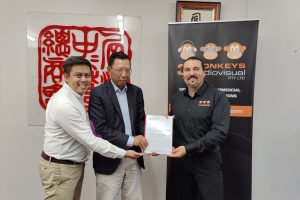 The Western Australian Chinese Chamber of Commerce is pleased to welcome 3 Monkeys Audio Visual as our official AV Equipment Partner for 2021. 3 Monkeys AV will be assisting with the set up of the video conferencing solution at our 3 Monkeys AV Conference Room, enabling us to host high quality video meetings, conferences and collaboration activities around the world.
The 3 Monkeys AV Conference Room, which is located at First Floor, 1304 Hay Street, West Perth will be installed with 65″ Sony TV and Logitech Rally Plus Video Conferencing System and is fully sponsored by 3 Monkeys Audio Visual.
Pictures will be coming along soon, so stay tuned for more details and the exciting opportunities it will bring!
---

With over 60 years of collective experience and an enviable reputation in the industry, 3 Monkeys AV is here to help you with your Audio Visual Needs today!
3 Monkeys AV are your trusted partner for purchasing all your Perth audio visual needs. Whether you are looking for a simple microphone and speaker combination for corporate presentations, purchasing an interactive whiteboard solution, an undercover area PA System for your school, or setting up your Church to maximise your congregations experience.
Avoid the frustrations of an amateur setup and have 3 Monkeys AV recommend and supply the right system.