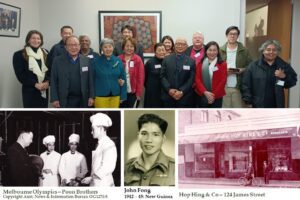 What was it like to live in Western Australia as an ethnic Chinese during the first half of the 20th century? Ms Kaylene Poon, speaker for our Chamber's Wednesday Networking on July 14, presented some fascinating insights. Kaylene is a fourth generation Chinese Australian, born and raised in Perth. She is the Hon. Historical Advisor for Chung Wah Association and actively research, document and promote Chinese history in WA.
Prior to 1970, Australia immigration was dictated by the White Australia policy, which gave British immigrants preference over all others. This policy severely restricted Chinese immigration during the first half of the past century. Kaylene estimated that there were only several hundred ethnic Chinese in Perth around 1960s. Her presentation focused on the lives of two men, John Fong and Jack Poon, who were Kaylene's father and father in law respectively. Both men made notable contribution to Australia through business and social activities.
Jack Poon descended from a Chinese family that settled in Victoria during the Victorian gold rush. The family later established a catering company called Poon Brothers, which grew from humble beginnings into a major specialist caterer for mining and industrial sites throughout Australia. One of the Poon Brothers' earliest project was to cater for the Asian Village at the 1956 Melbourne Olympics. Jack Poon came to Western Australia in 1968 to work on catering projects in Exmouth and other sites in the North West. He later settled in Perth.
John Fong descended from Chinese immigrants who settled in Perth around the time of WA's gold boom. The Fong family later took over a Northbridge based merchant / grocery retail store called Hop Hing & Co. This store was located at 124 James Street (now occupied by Outback Jack restaurant), immediately adjacent to the Chung Wah building. John enlisted in the Australian army during World War II, and was posted in New Guinea. After the war, John returned to take over Hop Hing. The store distributed supplies to restaurants and other Chinese owned businesses around Perth. As a consequence, John was well known in Perth's Chinese community, and he often provided informal interpretation and legal assistance to those in need.
The Networking event was well attended by members and guests. Special guests included the Honourable Pierre Yang, member of the Legislative Council, and Mr Chen Ting, President of Chung Hwa Association.