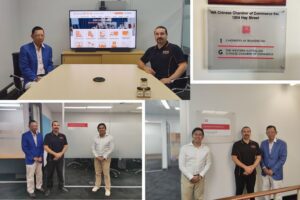 We are proud to announce that the installation of the world class Logitech Rally Plus video conferencing system is now complete at our board room at the WA Chinese Chamber of Commerce.
Thanks and appreciation goes towards 3 Monkeys Audio Visual, our AV Equipment Partner, for bringing this into reality.
Francis and the team at 3 Monkeys were fast, efficient and professional, and we wholeheartedly recommend them for anyone looking to embrace the digital world and set up Audio and Video solutions for the office!
Learn more about them at www.3monkeysav.com.au
The boardroom installation completion ceremony was attended by Francis Gragomeni (Founder, 3 Monkeys AV), Khoon Tan (President, WACCC) and Cheech Foo (Council Member, WACCC).
---

With over 60 years of collective experience and an enviable reputation in the industry, 3 Monkeys AV is here to help you with your Audio Visual Needs today!
3 Monkeys AV are your trusted partner for purchasing all your Perth audio visual needs. Whether you are looking for a simple microphone and speaker combination for corporate presentations, purchasing an interactive whiteboard solution, an undercover area PA System for your school, or setting up your Church to maximise your congregations experience.
Avoid the frustrations of an amateur setup and have 3 Monkeys AV recommend and supply the right system.