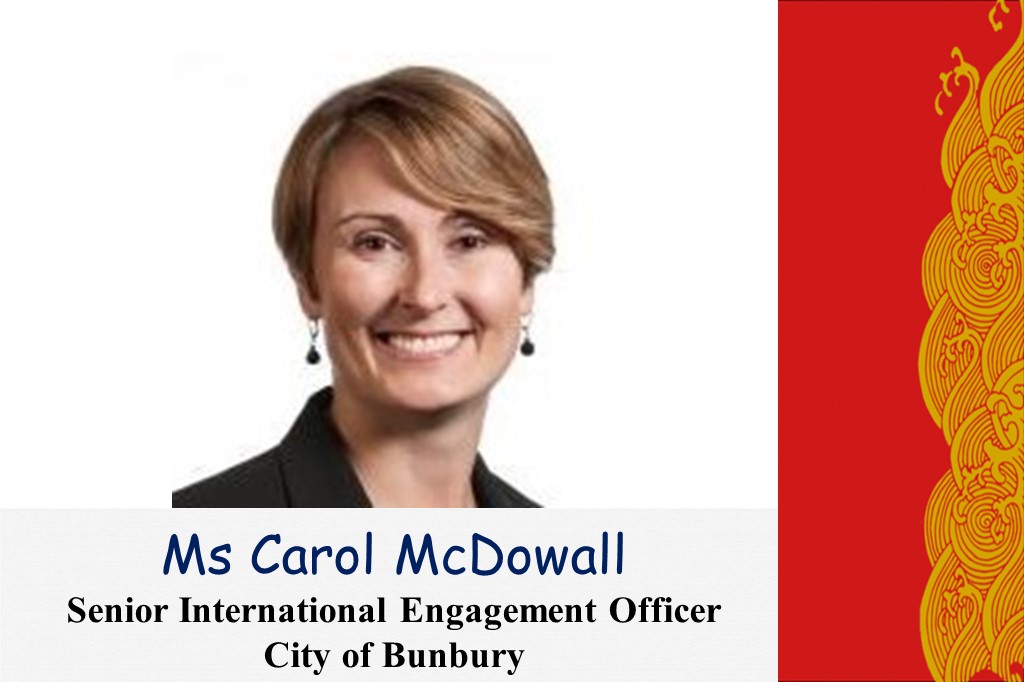 Date
09 Jun 2021
Expired!
Time
5:30 pm - 7:30 pm
Wednesday Networking with Ms Carol McDowall
Wednesday Networking is a platform for members and non-members to meet other like-minded people, providing the chance to create relationships.
CITIZEN DIPLOMACY
Have you ever heard of Sister Cities and wondered what that meant? Our guest speaker, Carol McDowall, looks after Bunbury's three sister and friendship cities which are located in China, Japan and Vietnam. She will share her experience of engaging with the local Bunbury community to develop a program that is mutually beneficial for Bunbury residents and their friends in their Sister and Friendship cities through encouraging citizen diplomacy.
Carol has had a varied career which started with her obtaining her degree from Cornell University in Ithaca, New York in Hotel & Restaurant Management. She has worked in hospitality and hospitality real estate in Saipan, Vietnam, the US and Australia before transitioning to commercial property as part of Macquarie Bank's Property team. Since leaving Macquarie in 2009, Carol undertook many consulting projects for her own company, McDowall Consulting, before joining the City of Bunbury in 2016 as their Senior International Engagement Officer.
Social Distancing Advice
The Chamber supports and adheres to our State Government's social distancing advice. We request all attendees to our Wednesday Networking event to observe the following guidance:
Do not attend if you are unwell.

Keep 1.5 metres away from others.

Avoid physical greetings such as handshakes.

Download and install the SafeWA on your mobile phone. All guests entering the premises will be required to scan the QR code.

We are restricted to 40 attendee under the 2 square metre personal space rule. Prior registration is essential for the event and we reserve the right to turn away attendees once we reach our maximum limit – First in, best dressed!