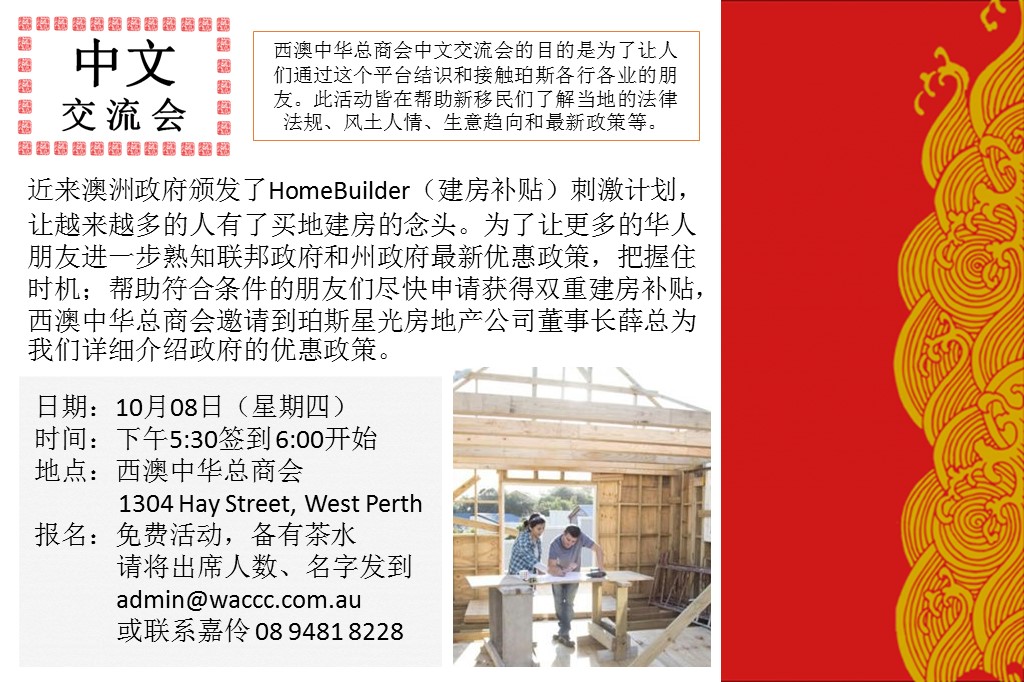 Date
08 Oct 2020
Expired!
Time
5:30 pm - 7:30 pm
买地建房指南
近来澳洲政府颁发了难得少有的好政策,让越来越多的人有了买地建房的念头。为了让更多的华人朋友进一步熟知联邦政府和州政府最新优惠政策,把握住时机,帮助符合条件的朋友们尽快申请获得双重建房补贴,西澳中华总商会定于十月八日(周四)晚在商会会馆再次举办华语交流活动Mandarin  Networking。
我们邀请到珀斯星光房地产公司董事长Sean 薛总作为此次活动的主讲嘉宾。薛总拥有自己的房地产公司和经营团队,在房地产市场开发方面有着丰富的实践经验。他将为我们详细介绍政府的优惠政策(包括NDIS 住房每年可赚取高达14%的租金收益);我们如何顺利获取建房补贴,以及在申请过程中需要注意的各类事项。相信你会在此活动中有意想不到的收获,好机会不要错过哦!
时间: 下午 5:30 报到 6:00开始
日期:10月8日(星期四)
地点:西澳中华总商会 1304 Hay Street, West Perth
报名:免费活动,备有茶水。请将出席人数、名字发到 admin@waccc.com.au
Social Distancing Advice
The Chamber supports and adheres to our State Government's social distancing advice. We request all attendees to our Wednesday Networking event to observe the following guidance:
Do not attend if you are unwell.

Keep 1.5 metres away from others.

Avoid physical greetings such as handshakes.

Download and install the Government's

COVIDSafe app

on your mobile phone.

We are restricted to 30 attendee under the 2 square metre personal space rule. Prior registration is essential for the event and we reserve the right to turn away attendees once we reach our maximum limit – First in, best dressed!