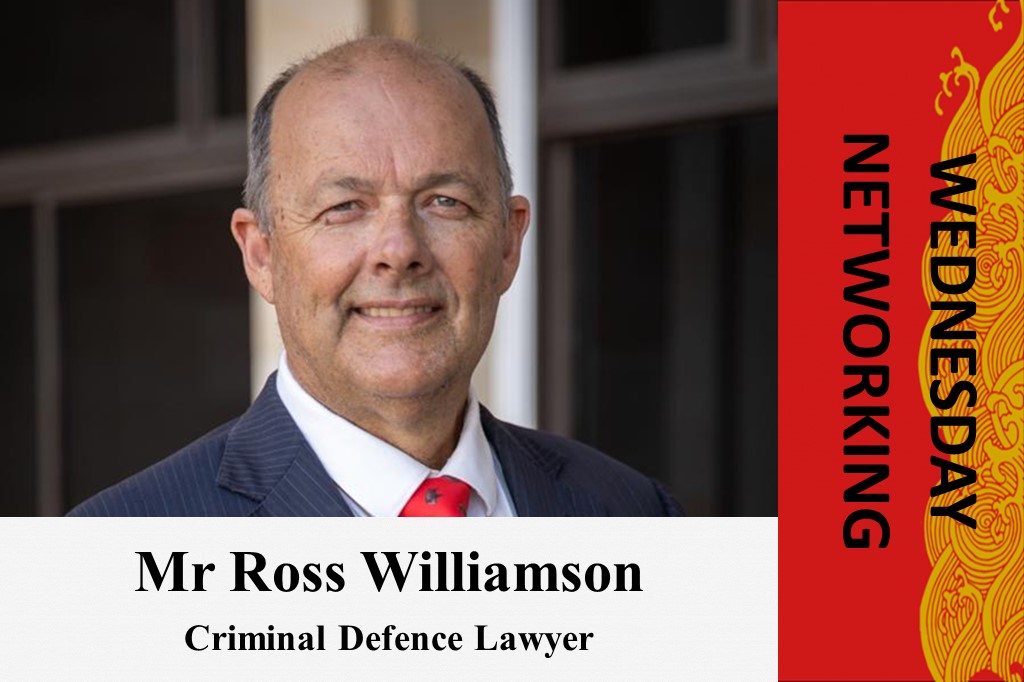 Date
08 Jun 2022
Expired!
Time
5:30 pm - 7:30 pm
Wednesday Networking with Ross Williamson
Wednesday Networking is a platform for members and non-members to meet different people, be exposed to new ideas and thoughts, develop new relationships and foster existing contacts.

CRIMINAL DEFENCE & THE LEGAL PROFESSION
Ross Williamson has focused his legal practice on criminal defence for over 25 years. He has defended people charged with a wide range of offences: from parking infringements to fraud, up to murder, major drug importation, as well as white collar offences such as those alleged by the likes of ASIC and the ACCC. He has appeared in courts of all levels: Magistrates Courts, District Courts, WA Supreme Court and the High Court of Australia.
He is known in the legal profession for acting on cases related to firearms, typically sportsmen and farmers, who have to negotiate regulations that are difficult to understand and follow.
Ross was born in a country town in WA and has lived in WA all his life. He now lives in the Swan Valley, with his horses.
Ross will share stories from his professional career, and give advice for those seeking to develop in this field.
Public Health Advice
The Chamber supports and adheres to our State Government's Public Health and Social Measures. We request all attendees to our Wednesday Networking event to observe the following guidance:
Do not attend if you are unwell, or are subjected to isolation protocol
Wearing of mask welcomed but not mandatory
Note: These Public Health and Social Measures may change from time to time, to comply with the latest advice from the State Government