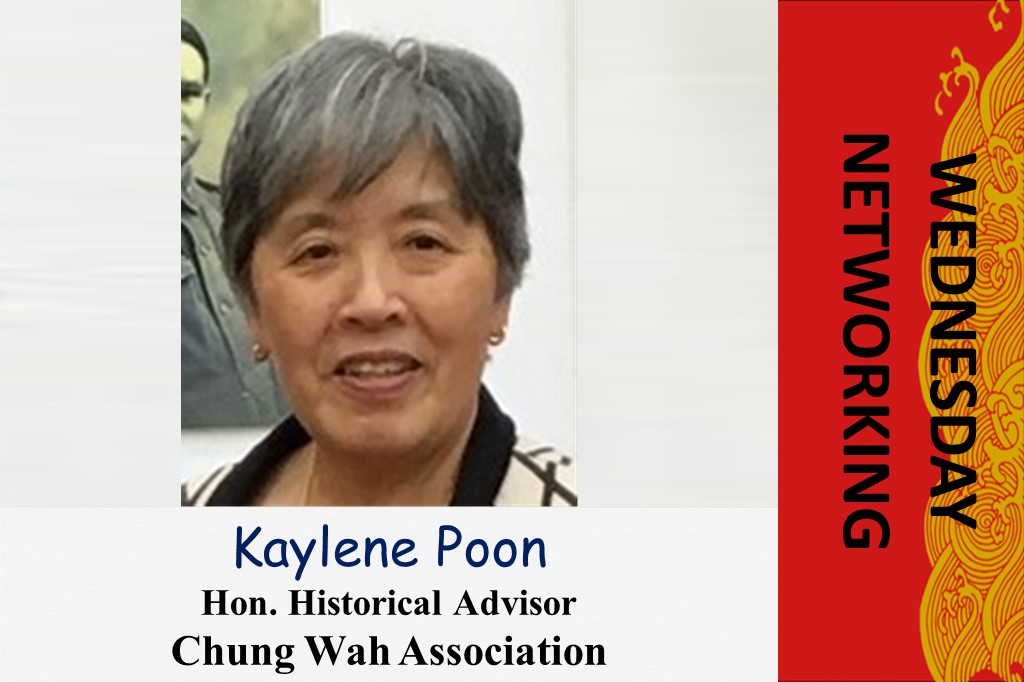 Date
14 Jul 2021
Expired!
Time
5:30 pm - 7:30 pm
Wednesday Networking with Ms Kaylene Poon
Wednesday Networking is a platform for members and non-members to meet other like-minded people, providing the chance to create relationships.
CHINESE IN WESTERN AUSTRALIA – SOME HISTORY

Kaylene Poon is a fourth generation Chinese Australian, born and raised in Perth. She grew up in Northbridge next to the Chung Wah Association Hall. In 1986 she became the inaugural co-ordinator of the Chung Wah Historical Group and remained in this role until 2009. From 1999 until 2010 she was the organiser of the school visits program "Restricted Entry" to the Chung Wah Hall, a program initiated by Catholic Education funding. Kaylene's interest in history relates to the early Chinese in Western Australia.
In 2011 she was inducted into the WA Women's Hall of Fame to acknowledge her voluntary work in the Chinese community for over 30 years.
Kaylene was the Local History Officer for the City of Melville for 11 plus years until retirement beckoned in mid-2019. Previously she was a Visitor Services Officer at the WA Museum (Fremantle sites) for over 11 years.  She was appointed the Hon. Historical Advisor for Chung Wah Association in 2018 and is often the 'go to' person for many local heritage/history organisations seeking WA Chinese information.  Kaylene continues to research, document and promote Chinese history in WA, conduct oral histories and mind her two granddaughters.
Kaylene will talk about the history of some Chinese families in Western Australia
Social Distancing Advice
The Chamber supports and adheres to our State Government's social distancing advice. We request all attendees to our Wednesday Networking event to observe the following guidance:
Do not attend if you are unwell.

Keep 1.5 metres away from others.

Avoid physical greetings such as handshakes.

Download and install the SafeWA on your mobile phone. All guests entering the premises will be required to scan the QR code.

We are restricted to 40 attendee under the 2 square metre personal space rule. Prior registration is essential for the event and we reserve the right to turn away attendees once we reach our maximum limit – First in, best dressed!