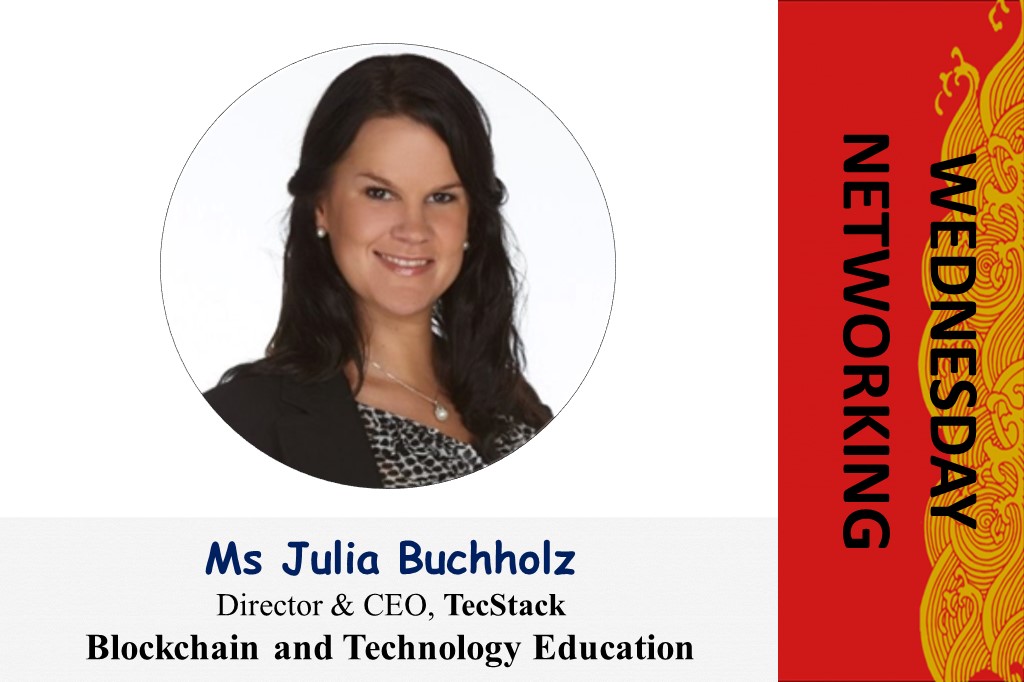 Date
10 Nov 2021
Expired!
Time
5:30 pm - 7:30 pm
Wednesday Networking with Ms Julia Buchholz
Wednesday Networking is a platform for members and non-members to meet other like-minded people, providing the chance to create relationships.
BLOCKCHAIN AND TECHNOLOGY EDUCATION

TecStack specializes in the education and research on blockchain and other emerging technologies including machine learning, big data analytics and robotics. The company also provides research and advisory services on such technologies to corporate and governmental bodies.
Our speaker, Ms Julia Buchholz is founder, director & CEO of TecStack. She is an innovation strategist with background in business development, digital marketing, advertising within the media and technology industry. She started one of Perth's first technology meetup groups in 2016 to teach the community the basics of digital currencies. She is an active Blockchain Business Advisor and mentor for Property Technology developments.
Julia will give an introduction to blockchain and its application.
COVID-19 Safety Advice
The Chamber supports and adheres to our State Government's COVID-19 safety advice. We request all attendees to our event to observe the following guidance:
Do not attend if you are unwell.

Download and install the SafeWA app on your mobile phone. All guests entering the premises will be required to scan the QR code provided at the entrance (or leave details on the contact register if you do not have the mobile app).