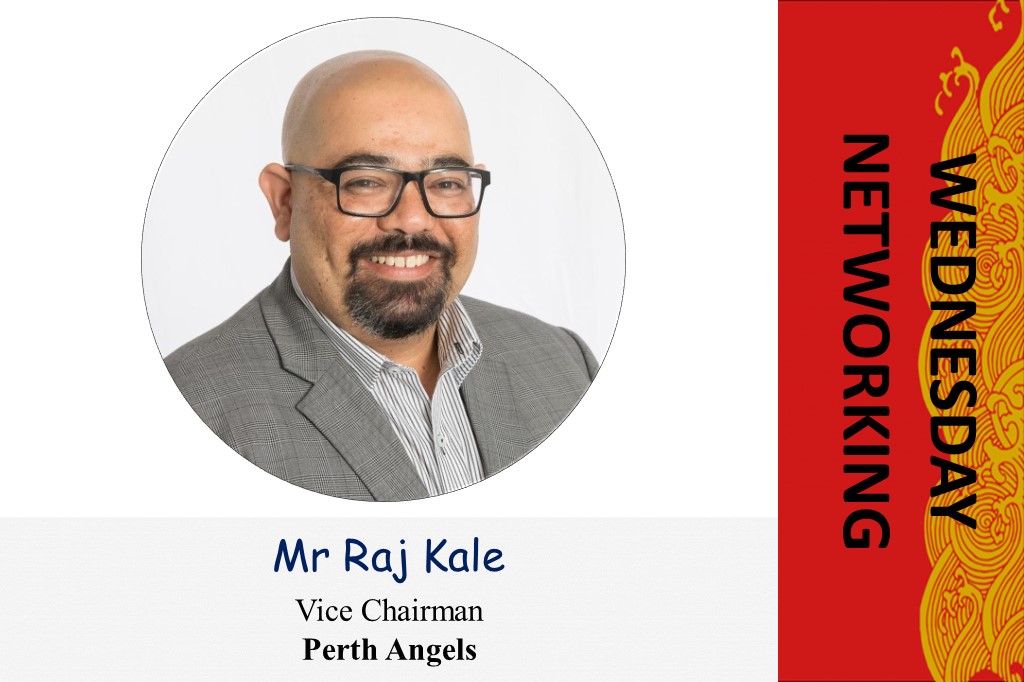 Date
06 Oct 2021
Expired!
Time
5:30 pm - 7:30 pm
Wednesday Networking with Mr Raj Kale
Wednesday Networking is a platform for members and non-members to meet other like-minded people, providing the chance to create relationships.
STARTUPS AND ANGEL INVESTORS
Perth Angels is a group of passionate and knowledgeable business people who like to invest in high growth, entrepreneurial led Western Australia businesses to realise high returns for the founders and investors. The group is associated with other early stage investor groups across Australia and around the world. Perth Angels conduct regular pitch nights, masterclasses for investors and entrepreneurs, and industry overviews on key emerging industries such as Medtech, Drones and Cyber Security.
Our speaker, Mr Raj Kale, is a vice Chairman at Perth Angels. Raj has been part of the investor and capital raising space across the globe for over 20 years. He co-founded Venture Pathway, a privately owned WA based investment and advisory firm, to work with companies tactically and strategically to optimise value for owners and other stakeholders. He is a mentor for the CSIRO ON Program and the Curtin University Innovation program. Raj has an accounting background (CPA) with expertise in mining, oil and gas, finance and health.
Raj will share his experiences as an early stage angel investor.
COVID-19 Safety Advice
The Chamber supports and adheres to our State Government's COVID-19 safety advice. We request all attendees to our event to observe the following guidance:
Do not attend if you are unwell.

Download and install the SafeWA app on your mobile phone. All guests entering the premises will be required to scan the QR code provided at the entrance (or leave details on the contact register if you do not have the mobile app).