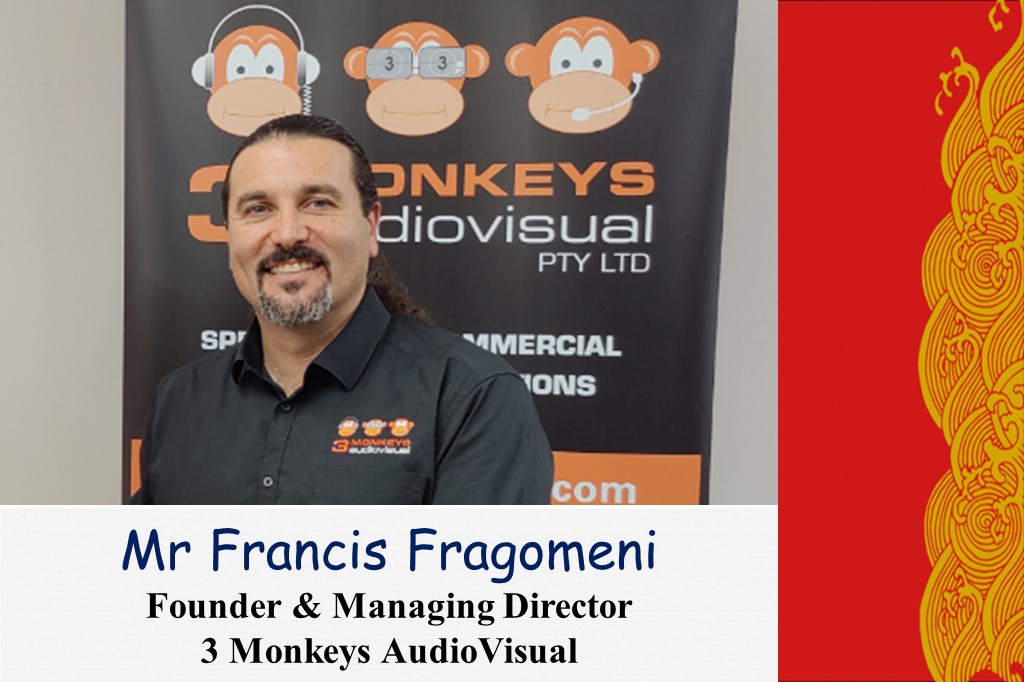 Date
26 May 2021
Expired!
Time
5:30 pm - 7:30 pm
Wednesday Networking with Mr Francis Fragomeni
Wednesday Networking is a platform for members and non-members to meet other like-minded people, providing the chance to create relationships.
DEVELOPMENT IN THE AUDIO VISUAL FIELD
Like it or not, we've all become heavy video conferencing users over the past 18 months as a result of lockdowns and social distancing. Our speaker Francis Fragomeni, Managing Director of 3 Monkeys AudioVisual, is an expert in this area.
Francis founded 3 Monkeys AudioVisual in 2008 out of his home attic, and grew it into a 13 strong team committed to customer service excellence. The business is focused solely on commercial AV design and installation, servicing schools and the education sector, corporate organisations, recreation and health centers, houses of worship, hospitality venues, local councils and retail stores.
Francis is a qualified audio engineer as well as a professional musician. He once completed a successful overseas tour as a band member. He still pursues his music interests, writing and jamming with high school friends. In his spare time he can be found on the family farm, ploughing garlic fields or attempting to repair rundown tractors.
Francis will speak on development in the AV field.
Disclosure: 3 Monkeys Audiovisual is AV Equipment Partner for the WA Chinese Chamber of Commerce
Social Distancing Advice
The Chamber supports and adheres to our State Government's social distancing advice. We request all attendees to our Wednesday Networking event to observe the following guidance:
Do not attend if you are unwell.

Keep 1.5 metres away from others.

Avoid physical greetings such as handshakes.

Download and install the SafeWA on your mobile phone. All guests entering the premises will be required to scan the QR code.

We are restricted to 40 attendee under the 2 square metre personal space rule. Prior registration is essential for the event and we reserve the right to turn away attendees once we reach our maximum limit – First in, best dressed!