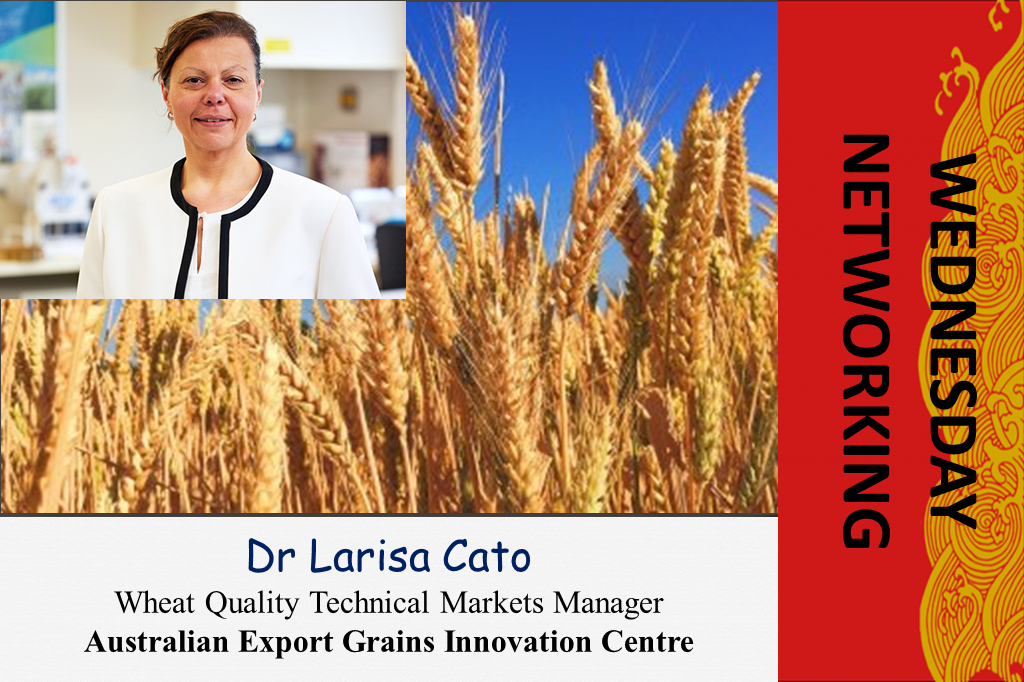 Wednesday Networking with Dr Larisa Cato
Wednesday Networking is a platform for members and non-members to meet different people, be exposed to new ideas and thoughts, develop new relationships and foster existing contacts.

Western Australia Grains Industry
While over-shadowed by iron ore and other resources commodities, wheat and barley are the largest non-mining export from Western Australia. During the 2020-21 financial year, these two grains contributed $3.7 billion to the state's export revenue. The recent conflict between Ukraine and Russia suddenly shone a spotlight onto international grain trade, and its importance in feeding the world.
Our speaker Dr Larisa Cato is a renowned expert on wheat quality, and is a passionate representative for the Australian grain producers. Dr Cato works at the Australian Export Grains Innovation Centre (Aegic), which is dedicated towards increasing the value of Australian grains industry through market insight, innovation and applied solutions.
Dr Larisa will provide a brief overview on the WA Grains Industry. She will also talk about some of her interesting research on Australian wheat, and the role of Aegic in promoting Australian grain export.
Public Health Advice
The Chamber supports and adheres to our State Government's Public Health and Social Measures. We request all attendees to our Wednesday Networking event to observe the following guidance:
Do not attend if you are unwell, or are subjected to isolation protocol
Wearing of mask welcomed but not mandatory
Note: These Public Health and Social Measures may change from time to time, to comply with the latest advice from the State Government