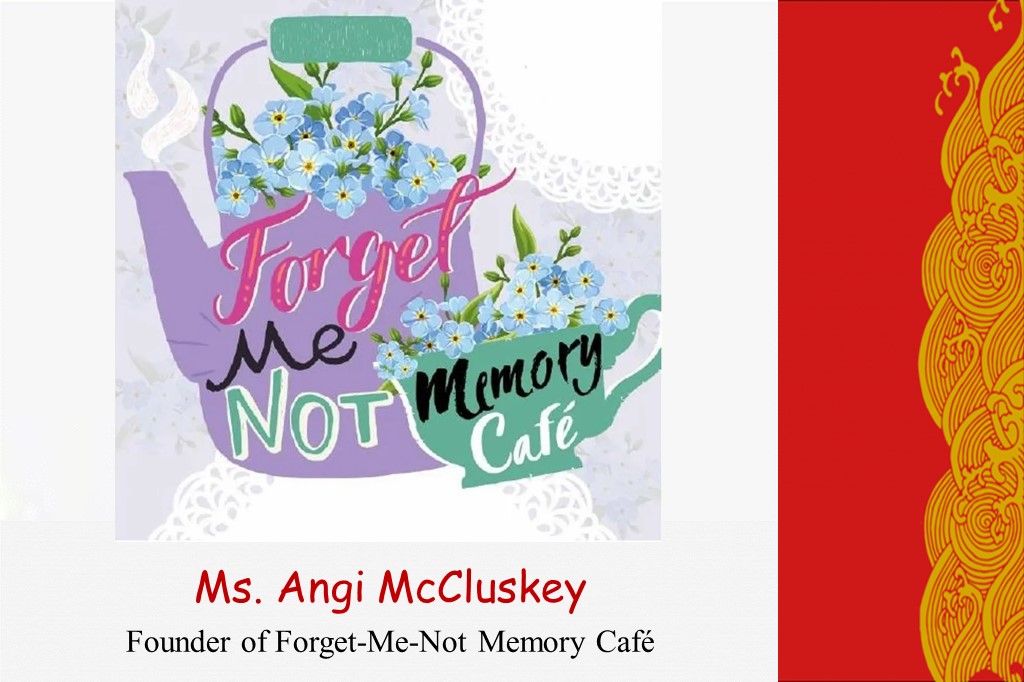 Wednesday Networking Event with Ms. Angi McCluskey
Wednesday Networking is a platform for members and non-members to meet other like-minded people, providing the chance to create relationship.
In November 2015, our speaker Angi's husband Michael was diagnosed with early onset Alzheimer's disease. That was shortly after Michael's 65th birthday. Alzheimer is an irreversible brain disorder that slowly destroys memory and thinking skills (the condition is called Dementia). There are reportedly 459,000 people currently living with Dementia in Australia (source: Dementia Australia).
As Michael's condition progressed, they discovered that there were very little opportunity for them to socialize as a couple with others in a safe, non-judgemental environment. Not to be deterred, Angi went ahead to create such an environment – that was the birth of Forget-Me-Not Memory Café. The Café allows people living with Dementia, their family and Carers to relax, share a cup of coffee, and chat with others who are travelling similar life paths.
The first Forget-Me-Not Memory Café event took place in Roleystone back in 2017. It soon led to other similar events. Today, there are 15 Forget-Me-Not Memory Cafes around Western Australia. Each one organised by a team of volunteers with the support of members, local government and venue owner. For this wonderful gift to society, Angi was awarded Metropolitan WA Senior of the Year in 2019 by the State Government.
Come to meet Angi and learn more about Forget-Me-Not Café.
Social Distancing Advice
The Chamber supports and adheres to our State Government's social distancing advice. We request all attendees to our Wednesday Networking event to observe the following guidance:
Do not attend if you are unwell.

Keep 1.5 metres away from others.

Avoid physical greetings such as handshakes.

Download and install the Government's

COVIDSafe app

on your mobile phone.

We are restricted to 30 attendee under the 2 square metre personal space rule. Prior registration is essential for the event and we reserve the right to turn away attendees once we reach our maximum limit – First in, best dressed!