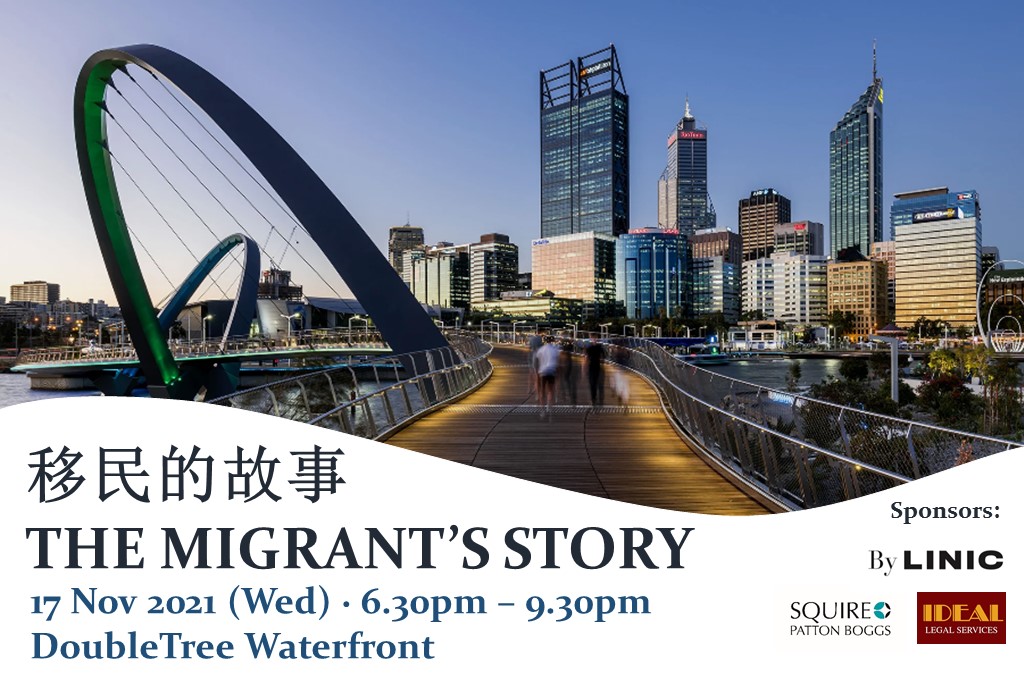 Date
17 Nov 2021
Expired!
Time
6:30 pm - 9:30 pm
The Migrant's Story
The Migrants Story which is held in bilingual has always attracted an excellent turnout. The event was started more than 20 years ago when there was an influx of Asian immigrants migrating to Western Australian seeking business and investment opportunities. The event features speakers who are migrants who have carved out a successful career in this foreign land. The motivation behind the event is to inspire individuals with the success story of these speakers.
移民的故事是西澳中华总商会唯一以双语(中、英文)进行的活动。活动始于20多年前,当时大批亚洲移民涌入西澳寻求商业和投资机会。 活动邀请成功的移民人士分享他们的个人故事,透过宝贵的经验和见解的分享,激发新移民为自己创造一个成功的生活,事业和商业。
Speakers:
Mr Simon Ch'ng – Sales and Marketing Manager, Far West Scallops
Mr Alec Lin – Managing Director, Lin Capital Pty Ltd
Venue:
DoubleTree Waterfront – 1 Barrack Square, Perth WA6000
Ticket price:
WACCC Member – $100
Non-Member – $138
Ticket price includes buffet meal and wines. Speakers details to be available.