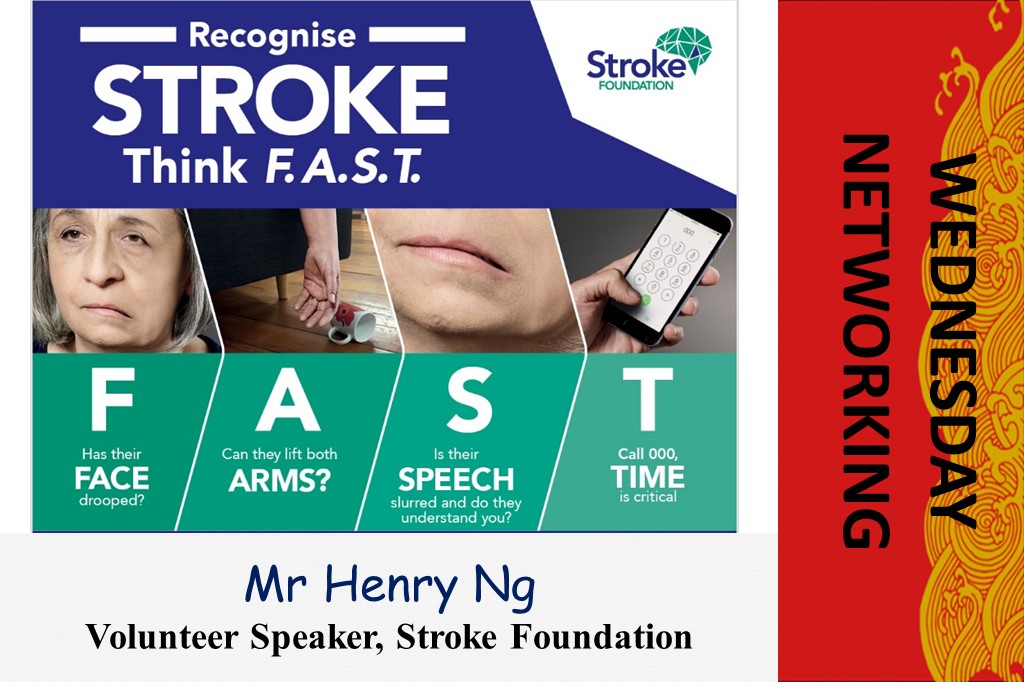 Date
18 Aug 2021
Expired!
Time
5:30 pm - 7:30 pm
Wednesday Networking with Mr Henry Ng on Stroke Safety & Prevention
Wednesday Networking is a platform for members and non-members to meet other like-minded people, providing the chance to create relationships.
STROKE SAFETY & PREVENTION
It is estimated that Australians experienced over 27,000 strokes in the 12 month period ending June 2000. Globally one in four people will have a stroke in their lifetime. Despite such grim statistics, many people are blissfully unaware of stroke and its potential impact.
The Stroke Foundation is a charity dedicated towards preventing strokes, saving lives and enhancing recovery. The speaker will talk about the of strokes, how to recongnise and respond to it, and most importantly, its prevention.
Note: Mr Henry Ng is a council member at the WA Chinese Chamber of Commerce, and the Chairman of the organizing committee for the Wednesday Networking event
Social Distancing Advice
The Chamber supports and adheres to our State Government's social distancing advice. We request all attendees to our event to observe the following guidance:
Do not attend if you are unwell.

Keep 1.5 metres away from others.

Avoid physical greetings such as handshakes.

Download and install the SafeWA on your mobile phone. All guests entering the premises will be required to scan the QR code.

We are restricted to 40 attendee under the 2 square metre personal space rule. Prior registration is essential for the event and we reserve the right to turn away attendees once we reach our maximum limit – First in, best dressed!