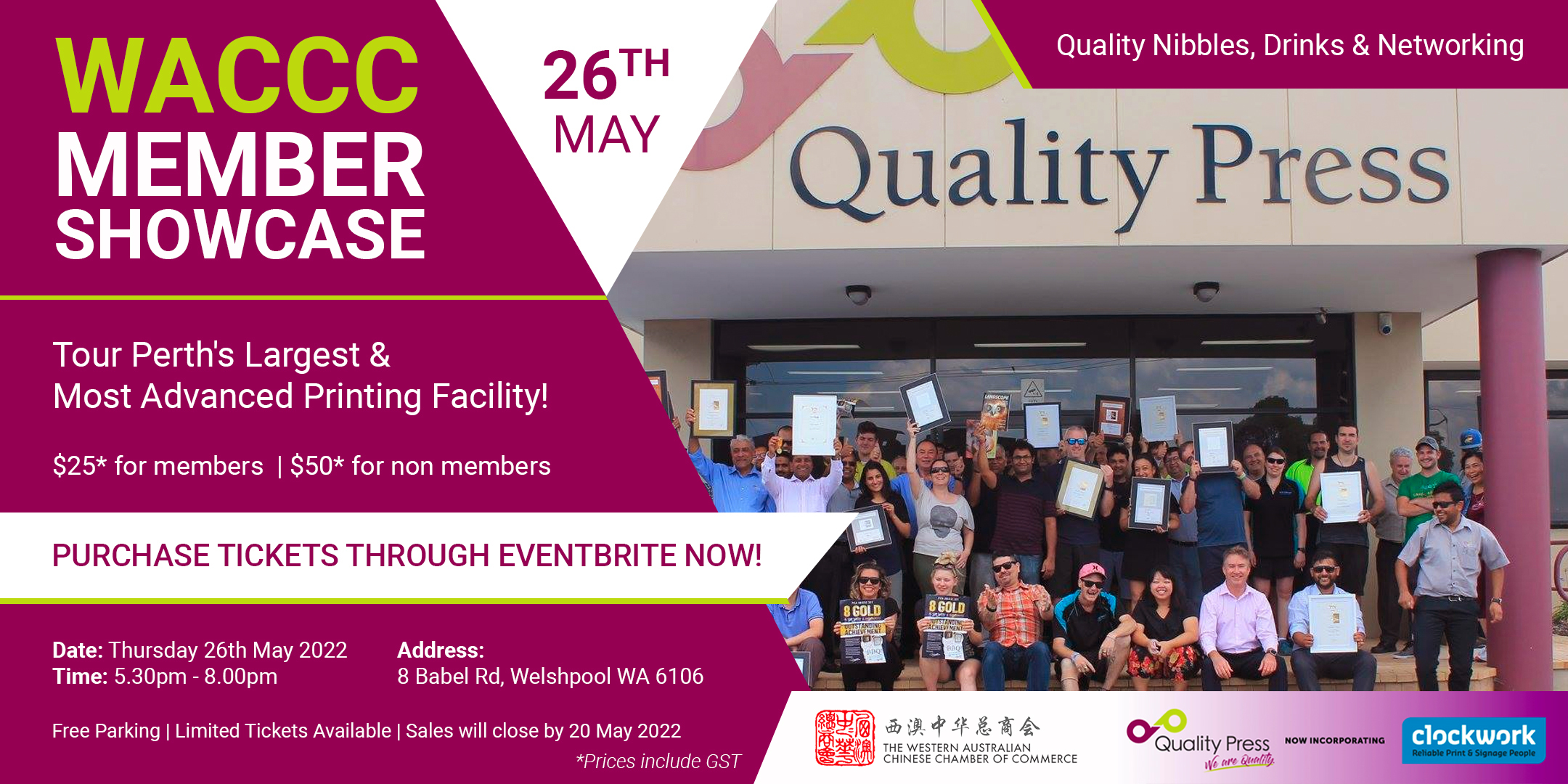 Postponed: WACCC Member Showcase
We are pleased to announce an awesome new line up of networking sessions called the WACCC Member Showcase series!
Throughout the year, selected Chamber members will open up their doors to their businesses, for us to learn more about their industry and why they are the best at what they do. It will then be paired with ample networking and drinks/nibbles that come with it of course.
We would like to announce that the inaugural event of this series is proudly supported by our Chamber members CLOCKWORK PRINT & QUALITY PRESS.
To put it succinctly, Quality Press is Perth's largest and most advanced printing facility in Perth. What they have managed to achieve in the past 50 years is a testament to the hardworking family business that owns and operates Quality Press, Clockwork Print and other associated brands.
Why this event is one not to be missed is because in their entire history, this is the first time that they have agreed graciously to open up their entire facility block and offer an exclusive tour, in collaboration with the Chamber.
In addition to the private tour, quality nibbles and drinks will be on offer. Most importantly, networking and the opportunity to build up new business relationships will be priceless and that will certainly be on full drive that night. Parking is free on premises. Dress code is business casual.
With limited tickets available, and with Australia finally turning the corner on COVID, it's time to get back into action & supercharge your business for 2022!
TICKETS (incl. GST):
Member – $25
Non-Member – $50
LOCATION:
Quality Press – 8 Babel Road, Welshpool WA6106
Public Health Advice
The Chamber supports and adheres to our State Government's Public Health and Social Measures. We request all attendees to our event to observe the following guidance:
Do not attend if you are unwell, or are subjected to isolation protocol
Wearing of mask welcomed but not mandatory
Note: These Public Health and Social Measures may change from time to time, to comply with the latest advice from the State Government