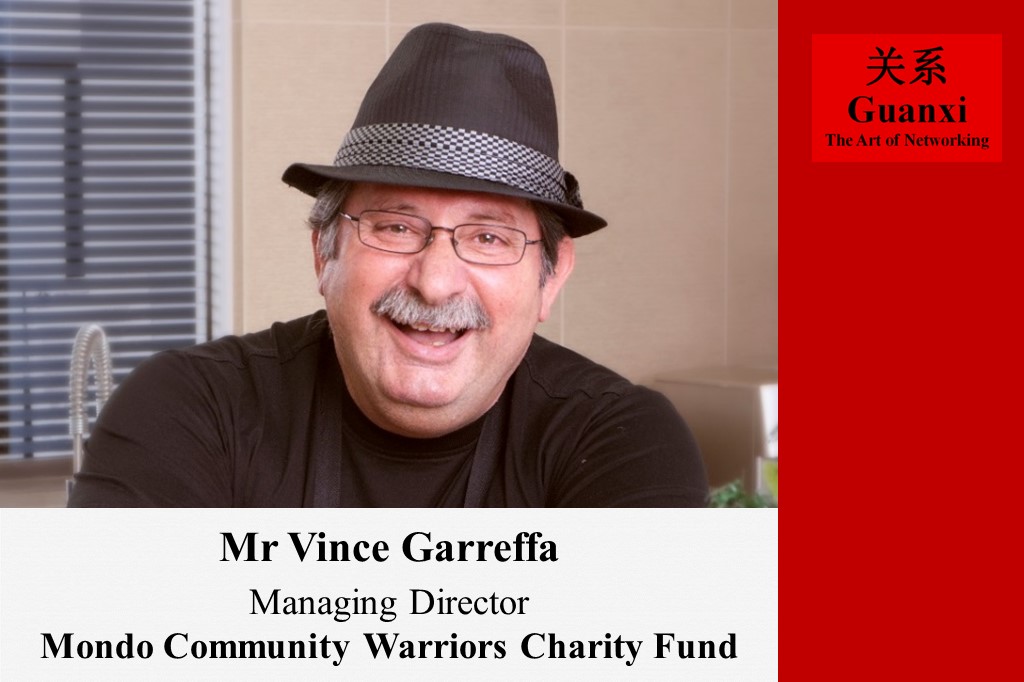 Guanxi with Mr Vince Garraffe
With ongoing opportunities and challenges of doing business here and in the Asia Pacific region, the core of your business success is GUANXI or relationships – establishing, building and maintaining them.
BUSINESS SUCCESS; GIVE & TAKE AND A POUND OF FLESH
VINCE GARREFFA – the City of Stirling Council 2022 Community Citizen of the Year has slowed down. His main "hats" these days are Director of Mondo Community Warriors Charity, Ambassador for Lifeline WA, Mondo Butchers, and WA Farmers and Food Producers.
Vince has led an exciting and non-boring life. He is a great believer in relationships mentoring and helping those in need. He truly believes in the Flesh in his Life (as per his book). He is widely regarded as "the Prince of Flesh" and "Butcher to the Stars". He is a passionate Italian who owns and operates Mondo Di carne, Perth's favourite gourmet butchery in Inglewood, WA.
Calabrian born and Australian raised, Vince did his training in Italian butcher shops in Perth since 1965, and in 1979, with his wife Anna, opened his own store Mondo Di Carne. While living in Midland, Vince became involved in the local community and sports clubs assisting them with fundraising. He was also President of the Midland Chamber of Commerce. One of Vince's greatest achievements has being the founder and sole distributor of White Rocks Veal, which is available throughout Asia and a leading hotel in Beijing.
Alongside his promotion of Australian products, Vince has been in and assisted royal and regal company – Her Majesty the Queen, Governor Quentin Bryce, HRH Prince Philip and Prince Charles.
Vince has worked as a butcher, speaker, author, successful business man and a tireless fundraiser – $4mIllion for LifeLine. Along the way relationships have been the key to his success. Come join us for Guanxi and hear his story first hand.
Cost:
Member – Free
Non-member – $20 (incl. GST)